Mornings are typically one of the more productive times of the day for most employees.
Whether they are catching up on requests from the day before or preparing for the day ahead, most employees are busy in the mornings. This is one of the main reasons why many employers like to hold meetings and celebrations later in the work day. On the other hand, by providing your staff with breakfast catering, you're not only showing them that you appreciate their efforts, but you are giving them fuel to be more productive throughout the work day. And not only that, you're creating a great opportunity for employees to interact with each other while increasing team morale.
And while breakfast catering is a great idea, you still need to consider the overall budget, especially if you have a lot of employees. See below for a handful of affordable breakfast catering ideas that won't break the bank!
1. Breakfast Sandwiches
You'd be hard-pressed to find an employee that doesn't enjoy a good breakfast sandwich. With Cooked Goose Catering, you have the option to provide your employees with a mix and match of assorted breakfast sandwiches or provide them with a breakfast sandwich buffet so they can create their own sandwich. This will not only cater to their individual preferences, but it'll also save you some bucks.
2. Individual Breakfast Plates
If you'd like to opt for something a bit more traditional, then our traditional continental breakfast is an ideal combination of breakfast bread, assorted yogurt, juices, butter, and jelly. Our other featured items include Sunrise Breakfast, Rise 'N Shine, Skillet Buffet, and many more! This assortment of breakfast plates ranges from $9.95/pp – $13.95/pp. If you decide to take this route, you can offer your employees one set breakfast plate or a combination of multiple breakfast plates.
3. Mix & Match
If you're looking for variety, then you should definitely consider our Mix & Match breakfast menu. We offer an assortment of different bagels, croissants, Danishes, donuts, and muffins as well as breakfast meats, fruit salad, French toast, pancakes, assorted bottled juices, and more! This is the perfect option for fulfilling all of your employees' individual preferences while being budget-friendly.
4. Build Your Own Brunch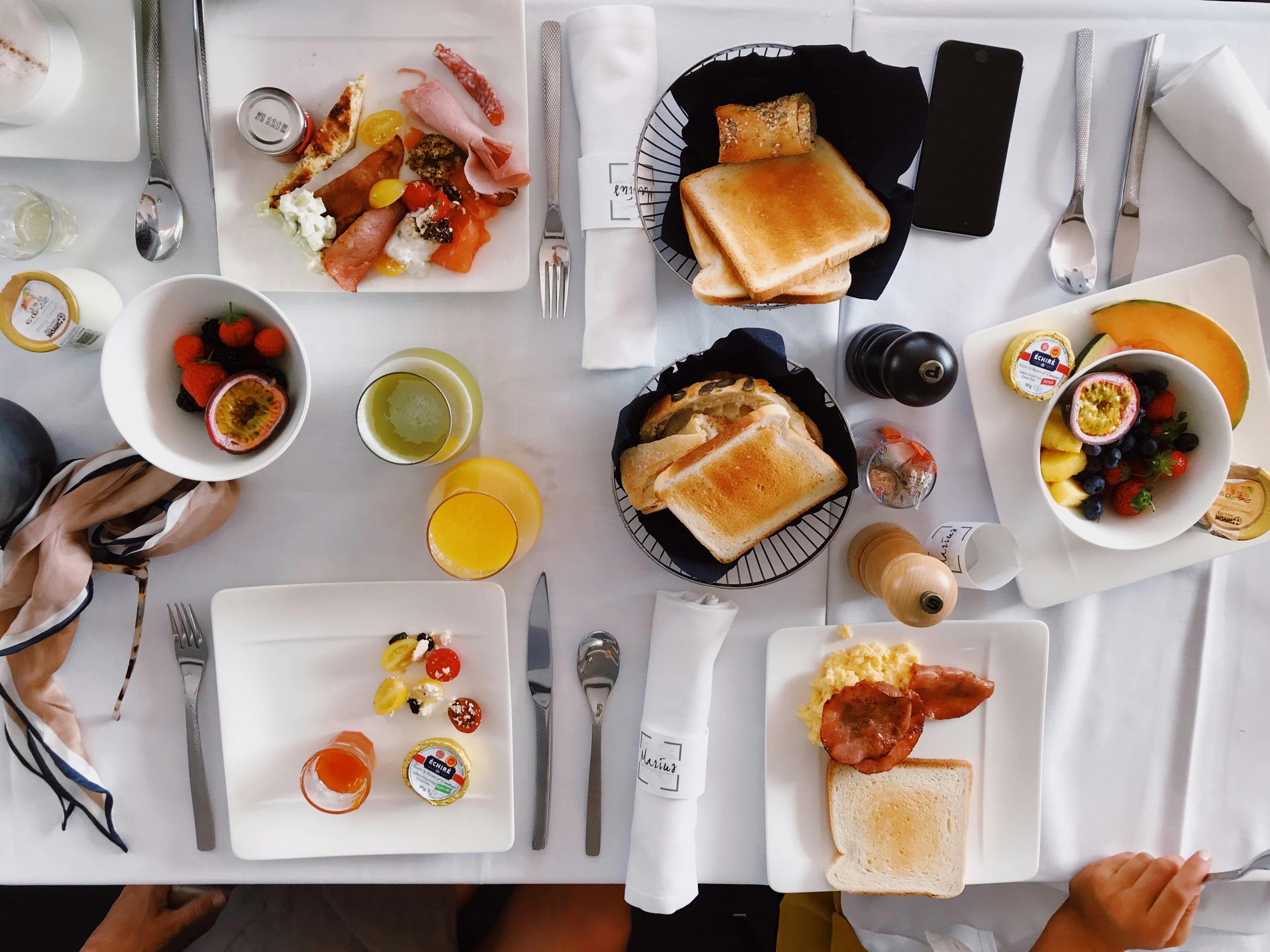 If you don't want to limit your breakfast catering menu to a couple of items and are in the mood to host a brunch style gathering, then you can also consider our build your own brunch. The advantage of this menu is you have the option to choose an egg, side dish, pasta, chicken, meat, and vegetable from a set menu. It also includes a season fresh fruit bowl, assorted breakfast bread, and tableware. For an additional cost, you can also add juice or coffee.
Conclusion
As Greater Pittsburgh's most trusted breakfast catering company, we're here to help provide you with affordable breakfast catering for your next office meeting, corporate event, or celebration of any kind. All of the breakfast catering ideas above are homemade from scratch using the freshest ingredients. Whether you're looking for breakfast sandwiches, pre-assembled breakfast plates, or a build your own menu, The Cooked Goose Catering Company has you covered!
It's never too early or too late for breakfast. To see how we can cater your next event, please contact us today at 412-258-5944 to create your custom breakfast menu.