For most Americans, Thanksgiving is one of the biggest holidays of the year, both in terms of the number of guests and the amount of prep work needed.
It's a special time of the year when families can get together, enjoy their perfectly roasted turkeys, and spend hours conversing. But there is no denying the fact that this holiday is way more enjoyable and stress-free when you're not the host. Surveys show that most Americans can spend up to 7 hours preparing their Thanksgiving meals from scratch. And let's not forget all of the time and money they spend on purchasing the ingredients.
Best Thanksgiving Dinner Catering
If you're thinking about hosting a Thanksgiving at your home, here are 5 simple ways to organize and simplify your Thanksgiving dinner.
1. Ditch the Cooking
We all know that 2020 has been a crazy year. With all of the travel restrictions and safety concerns due to the pandemic, many Thanksgiving gatherings will more than likely be smaller than normal. And while this might not be a traditional choice, ordering your Thanksgiving dinner from a local catering company can save you loads of time and effort.
With that being said, thanksgiving catering can be a very logical and safe alternative. Browse through the holiday menu packages offered by various catering menu prices and also offers you to select your favorites to eliminate the back-breaking task of cooking a Thanksgiving dinner.
2. Nail Down the Menu
Whether you decide to cook or order your Thanksgiving dinner, make sure that your menu is wrapped up at least a week before the event. While turkey, mashed potatoes, green bean casserole, cranberry sauce, stuffing, and pies are classic Thanksgiving staples, you can also be innovative with your menu to offer something unique and memorable to your family and friends.
Even if you're considering fried chicken catering for the Turkey Day festivities, make sure to discuss and confirm your order well in advance to avoid the last-minute rush. Note that several popular catering providers stop taking new orders at least a few days before Thanksgiving. So, the sooner your menu is ready, the easier it'll be to make or purchase a delicious feast.
3. Know What Your Guests Will Bring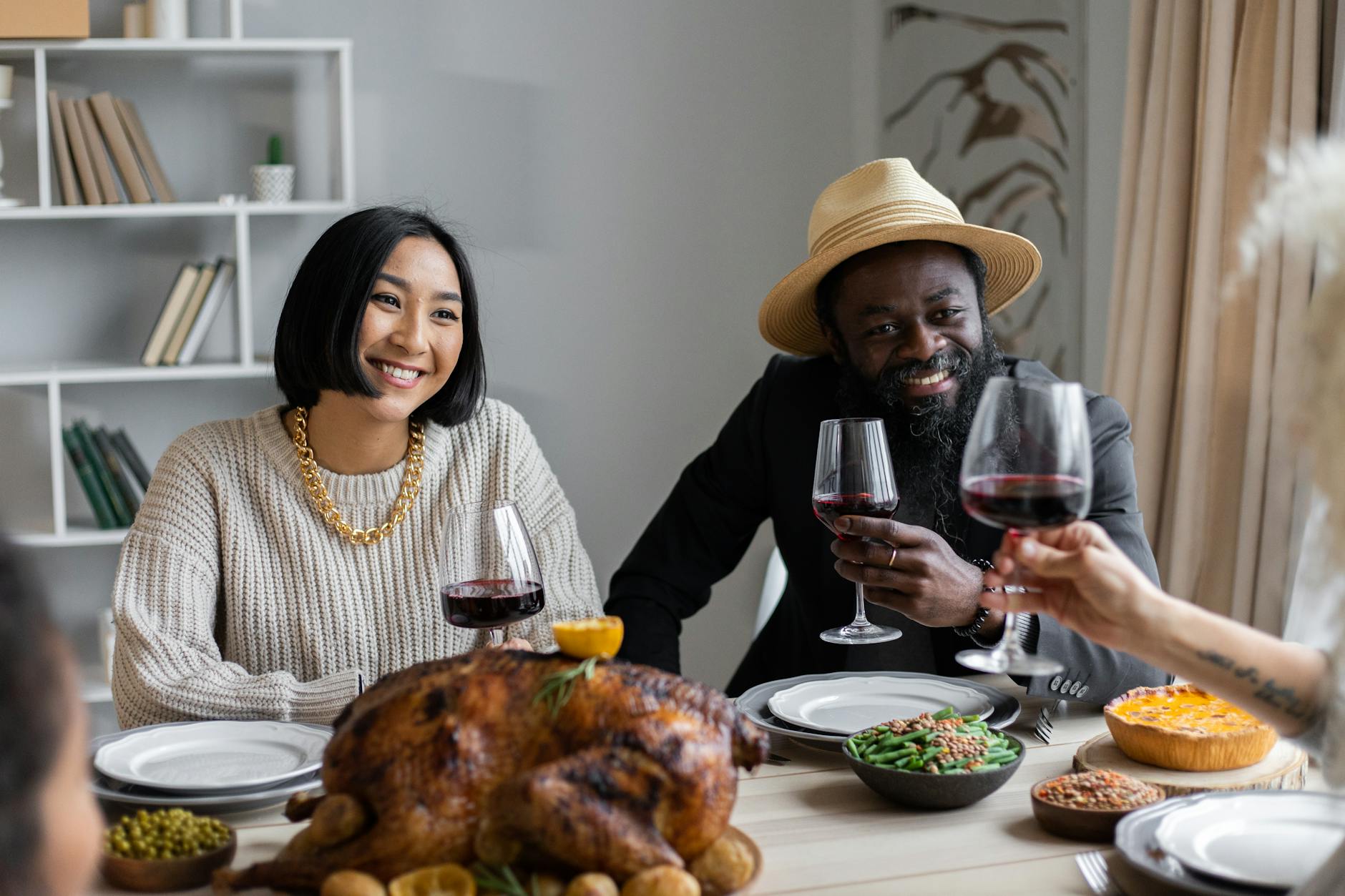 It's common for guests to bring a side dish, appetizer, or dessert to complete their Thanksgiving dinner. If you're having guests who will bring food, we recommend that you create a list of what they're bringing. This will help you cross dishes off your list while also ensuring that no two guests bring the same item that you'll end up eating for days after the festivities.
Alternatively, if you have a large family, you can also delegate the entire course, like drinks, appetizers, or desserts. This will also make dinner preparations easier for you.
4. Ensure You Have the Proper Serveware
If you're looking for ways to add a bit of oomph to your Thanksgiving dinner, quality serveware is the way to go. Ensure that you have a large platter for the turkey, a carving knife, bowls, platters, a gravy boat, and enough serving utensils for all of your guests. In case if you don't have this essential thanksgiving serveware, you can always find substitutes and replacements.
5. Get Creative With Your Drinks
While beer and wine are easy go-to's, you can get creative and serve your family delicious, fall-flavored cocktails instead. With pecan pie, pumpkin, apple cider, and cranberry-based drinks, they're far more festive than a plain ol' bottle of red wine.
Organize Thanksgiving Dinner Like a Pro
Even if it's the first time that you're hosting Thanksgiving for your family and friends, there is no reason to feel anxious. All it takes is a bit of planning and creativity to host the dinner party that people will remember for years to come. And even if you're not cooking the meal yourself, finding the best local Thanksgiving catering company can be a practical choice to help save time, money, and stress.
Let us take care of the details so you can enjoy your special day! Contact Cooked Goose Catering Company today at 412-258-5944!